Marine Scotland Blog

Scottish Government Blog
Updated: 34 min 14 sec ago
Scotland's Climate Week is an annual event in Scottish Government's Let's Do Net Zero campaign which encourages individuals, communities and businesses to come together to show support for tackling the climate emergency. It's also a great opportunity to share success stories which can inspire others to take action.
Climate Conversations are one way to create a ripple effect of positive actions. The Climate Conversations Pack is a great resource to help you get the conversation started with your friends, family and colleagues.
Talking about the ocean
The ocean is also important for the Earth's climate and the ocean has taken up nearly 90% of the additional heat trapped inside our atmosphere. The impacts of climate change and ocean acidification are already observed across marine ecosystems, including here in Scotland.
However, in a recent survey exploring understanding of the marine environment we found that several marine terms relating to climate change were not well understood. For example, over 50% of respondents had never heard of, or understood, terms such as: blue carbon, carbon sequestration, and ocean acidification.
To help get those climate conversations going this week, we're looking at some of these lesser recognised marine terms by finding out what they mean and the work we're doing in each area.
Blue carbon is the carbon captured and stored in marine and coastal ecosystems that accumulates over time through natural processes. Blue carbon habitats include: saltmarshes, seagrasses, kelp beds, biogenic reefs and geological sedimentary stores, such as seafloor and sea loch sediments.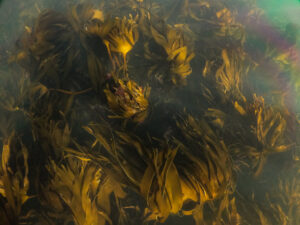 You can find out more about our Blue Carbon work on the Scottish Blue Carbon Forum website.
Carbon sequestration is the process in which carbon dioxide (CO₂) is removed from the atmosphere and subsequently stored through biological, chemical, or physical processes. Carbon dioxide is one of the greenhouse gases in the atmosphere that affect the planets temperature. The capture and storage of carbon dioxide occurs naturally in forests, peat lands, microscopic plankton and other marine habitats.
Carbon sequestration and storage is a human activity where carbon dioxide is captured from an industrial source and is stored in underground geologic formations, or rocks.
Ocean acidification is the change in the chemical balance of the sea caused by the uptake of carbon dioxide released into the atmosphere by human activities. This process is making the oceans more acidic and is creating corrosive conditions that might impact plants and animals with calcareous shells. The monitoring site at Stonehaven, operated by the Marine Directorate of Scottish Government, helps us to assess the potential biological impacts of ocean acidification and climate related changes to the plankton community.

Check out some of the resources on the Net Zero Nation website too, there are great examples of what we're doing already and how you can make more planet-friendly decisions, whether looking for more environmentally conscious transport options or considering how best to protect and restoring nature.
Further information
Celebrating 25 years of environmental monitoring
Ocean literacy survey: headline findings
An investigation in Scottish coastal waters –  Ocean Acidification Week 2021 
The post Bringing the ocean into climate conversations appeared first on Marine.
Scotland is well known for our diverse flora and fauna, both on land and in the sea. Some of the most iconic species seen around our coasts are seals. Scotland is home to a population of approximately 121,000 grey seals and 27,000 harbour (common) seals.
Haul out sites are where seals come out of the water to rest, moult, breed, and to have pups. Seals that are hauled out may be particularly sensitive to approach by humans whether from the land, sea or air and therefore caution is required in such circumstances.
Section 117 of the Marine (Scotland) Act 2010 provides Scottish Ministers with the power to designate seal haul out sites. Following work between the Marine Directorate and the Sea Mammal Research Unit (SMRU) at the University of St Andrews a number of sites were identified. A map of all 195 locations can be found here.
Under the Marine (Scotland) Act 2010 it is an offence to intentionally, or recklessly harass a seal at a designated haul out site. The Marine Directorate has produced guidance which includes examples of actions that might constitute harassment and information on behaving responsibly around seal haul outs.
Karen Hall, NatureScot Marine Ecology Advisor comments:
"We all love to watch wildlife, but we also need to protect it. We're asking people to stay well clear of the seal haul out sites. At this time of year, grey seals are starting to pup, so it's a sensitive time for this species. Watching from a distance minimises disturbance and can give great views of natural behaviour."
Seal behaviour
Seals rest on land to conserve energy, or for females to nurse their young. This is also time when the seals can regulate their temperature while they moult, either due to pups growing in their adult fur, or the annual moult of adults. Regulating temperature in water and swimming all expends energy. When forced to enter the water to avoid a perceived threat, seals are stressed and use additional energy. It is also a danger to new pups that may be injured or killed by adults in large groups that rush into the water.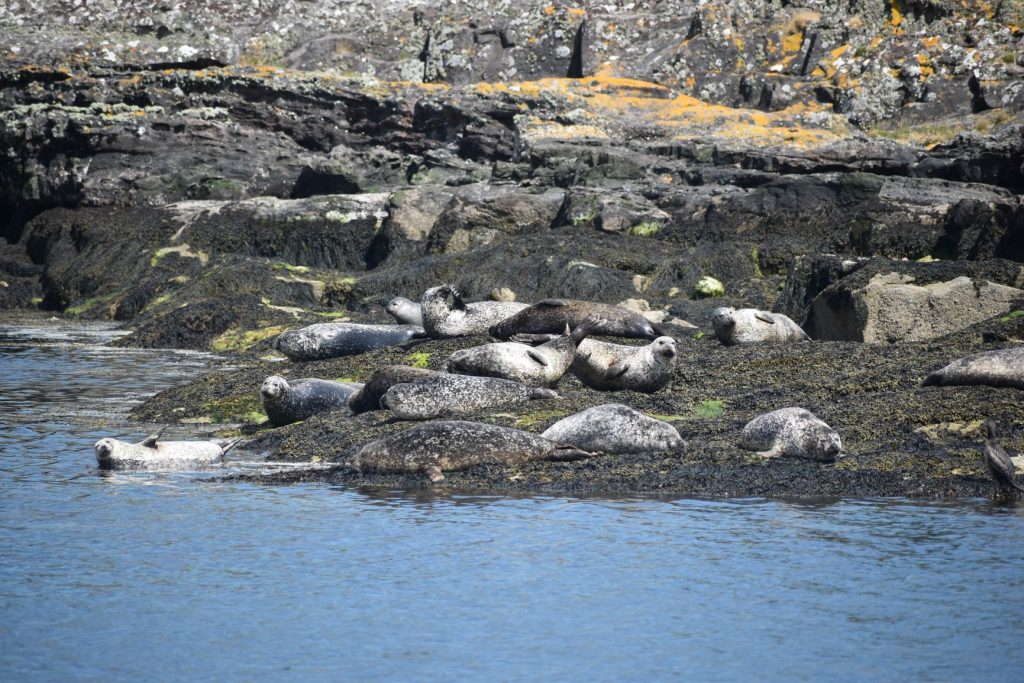 There are some body language cues that can let you know if you are at risk of disturbing seals. They have a three-stage response to perceived threats:
heads-up – the seals raise their heads and watch your location and approach. If you see this behaviour, you should back away and/or change your method and speed of approach.
movement – the seals will start to shift around and appear agitated. If they were laying on their sides they may move to their stomachs to allow them to retreat. If you notice this behaviour you need to back off from the seals so you do not cause the third stage of the response.
stampede – the seals will quickly retreat from land to the water to escape. This puts the seals at risk of injury as well as any pups that are amongst them.
The Scottish Marine Wildlife Watching Code (SMWWC) provides recommendations and advice on responsible wildlife watching. Some helpful tips include:
look up the site you intend visiting for any local wildlife management information and follow their guidance
be aware of the local pupping seasons – avoid visiting breeding sites during these periods
keep your distance and keep dogs away as they can cause a stampede response
do not try to touch or feed seals, they can move surprisingly fast and as cute as they may appear they are predators and are known to bite
never separate pups from mothers as this leads to stress for both and risks abandonment by the mother
leave lone pups alone – the mother may only be foraging for food
signs that a pup may have been abandoned can be found on the British Divers Marine Life Rescue (BDMLR) website
don't crowd or encircle seals and do not stand between them and an escape route to the water
keep the noise down and avoid sudden movements
Going for a walk on the beach is a great way to get a dose of fresh air and daily exercise. Remember to do so safely for the animals that know those beaches as safe places.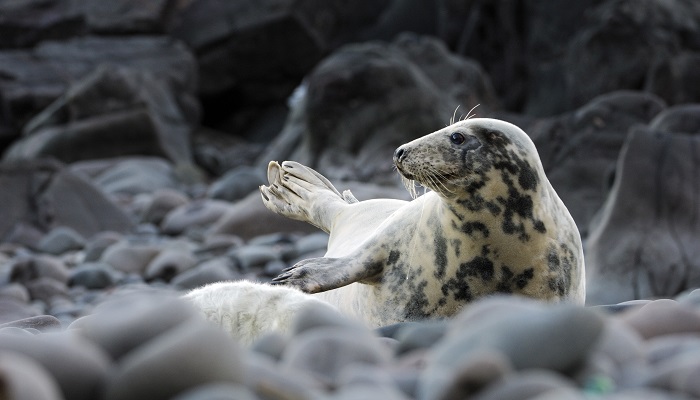 Frequently asked questions What is a designated seal haul out site?
A designated haul out site is any place, which Scottish Ministers designate as such by Order, after consulting with UK Research and Innovation (UKRI). These are identified as areas of consistent high density (hotspots) for harbour and grey seals.
What are the 195 sites designated for?
Of a total of 149 haul out sites:
62 are used mainly by harbour seals
20 are used mainly by grey seals
67 are shared by both these species
Additional sites are grey seal breeding colonies, used by this species specifically during their pupping season. All of these sites provide protection all year round.
Are there any times of year that are particularly sensitive?
Harbour seals usually give birth in early summer (June – July) and spend time ashore in August for their annual moult.
Grey seals give birth in the autumn (September – December) and stay on land for several weeks. Adults and pups leave in the spring once they have finished their moult and the pups have been weaned.
What constitutes harassment?
Details on intentional and reckless harassment can be found in the Guidance on the offence of harassment at seal haul out sites.
What should I do if a group of seals reacts to me watching them?
This is an early sign that the seals could be scared from their resting place. If you notice either steps one or two detailed above in the seal behaviour section, you should back away and review your approach.
What should I do if I see a seal that doesn't look healthy?
You can contact Scottish Society for Prevention of Cruelty to Animals (Scottish SPCA) or BDMLR if you are concerned for the welfare of a seal.
What should I do if I suspect someone of committing an offence by harassing seals?
If you are concerned that you have seen someone commit a wildlife offence please contact the Marine Directorate on 0131 244 2286 or via our website.  Alternatively you can contact Police Scotland on 101 or using their website.
What about other wildlife?
NatureScot's guide to best practice for watching marine wildlife provides advice on wildlife watching on land and at sea.
What do I do if I find a dead seal?
If you come across a seal carcass, you should contact the Scottish Marine Animal Stranding Scheme (SMASS) via phone/text 07979 245893 or email reports@strandings.org
When you report a dead stranding, please try to provide the following information:
date found
location (grid reference if possible)
photographs of the carcase
species or description (see species guide)
overall length (estimation)
condition of the animal
your contact details
Further information
Main picture: harbour seal and pup. Picture provided by Jack Lucas/Crown copyright.
The post Responsible wildlife watching around seals appeared first on Marine.
On 7 September 2023, the Cabinet Secretary for Rural Affairs, Land Reform and Islands, Mairi Gougeon, visited the Outer Hebrides to announce over £500,000 in funding to support the protection and recovery of wild salmon populations.
The award will be used by District Salmon Fishery Boards and Fisheries and Rivers Trusts across Scotland to carry out monitoring of adult salmon populations and the sampling of juveniles through the National Electrofishing Programme for Scotland (NEPS). Additionally, it will allow an assessment of interbreeding of wild and escaped farmed salmon through the National Introgression Programme for Scotland (NIPS).
Scotland's Wild Salmon Strategy and Implementation Plan set out our commitment to protect and restore wild salmon populations, which are in decline. The funding will support the commitment to have a coordinated approach to monitoring wild salmon populations, building on our existing evidence base.
The Cabinet Secretary visited the Outer Hebrides Fisheries Trust to observe electrofishing, used to survey fish populations, in action. The Cabinet Secretary said:
"I am delighted to announce a funding package of £500,000 to support wild salmon monitoring in Scotland. It is an example of our commitment to this iconic species, as set out in the Wild Salmon Strategy Implementation Plan which we published earlier this year.
"I am grateful for all the work carried out by District Salmon Fishery Boards and Trusts in support of wild salmon conservation, and it has been great to have the opportunity to see monitoring in action today with the Outer Hebrides Fisheries Trust"
Paul Hopper, Senior Biologist, at the Outer Hebrides Fisheries Trust said:
"The Outer Hebrides Fisheries Trust are delighted to be part of the effort delivering the NEPS project. The design of NEPS means that the trust can visit often overlooked and remote river locations.
"The data gathered on juvenile fish populations is of great interest as are the results from the genetic sampling. Involvement in NEPS 2023 formed part of the trust's decision to recruit a seasonal assistant who has helped with NEPS and many other projects throughout the Outer Hebrides.
"We are grateful for the excellent local support from fisheries and their assistance with accessing the NEPS sites."
Background
Electrofishing is undertaken by highly trained individuals to survey fish populations using specialist equipment, passing a small electric current through the water so fish can be caught quickly and easily without causing them harm
The National Electrofishing Programme for Scotland provides a framework for data collection and analysis that includes a survey design, standard operating procedures and state of the art analysis. This allows the health of juvenile salmon populations to be assessed at site, catchment, regional and national scales
Adult salmon sampling provides information on the number, size, sex and age of salmon returning to Scottish rivers, this data supports national and international management of salmon populations
The recreational fishing sector is worth £79.9m GVA and supports 4300 jobs in Scotland
The post Funding announced to support protection and restoration of wild salmon appeared first on Marine.
The Marine Directorate of the Scottish Government is working with Fisheries Management Scotland (FMS), NatureScot and the Scottish Environment Protection Agency (SEPA) to co-ordinate a monitoring programme for invasive non-native pink salmon ('Oncorhynchus gorbuscha').  
Sightings in Scottish waters 
Pink salmon have a two-year lifecycle and most have been recorded,  in Scotland, during odd numbered years.  A joint opinion piece paper published by the Marine Directorate, NatureScot and FMS discussed the potential impact pink salmon could be having on native species and habitats in Scotland. Following the increase in pink salmon observations the paper highlighted the need for improved monitoring of the species in Scottish rivers. 
Pink salmon monitoring using eDNA
The Marine Directorate has since been working with district salmon fishery boards to look at the use of environmental DNA (eDNA) for the monitoring of pink salmon in Scottish rivers. Preliminary data generated to date has allowed us to design a much broader monitoring campaign, which was launched earlier this year.
Water samples were collected from 30 rivers across Scotland, in collaboration with FMS, SEPA and NatureScot. Using eDNA-based approaches, information can now be obtained on the presence and distribution of pink salmon in our rivers, which was previously not possible. This data will help to identify where management, and possible control actions, should be focussed to help combat the increase of this invasive non-native species.  
This video shows how our science colleagues monitor using this method.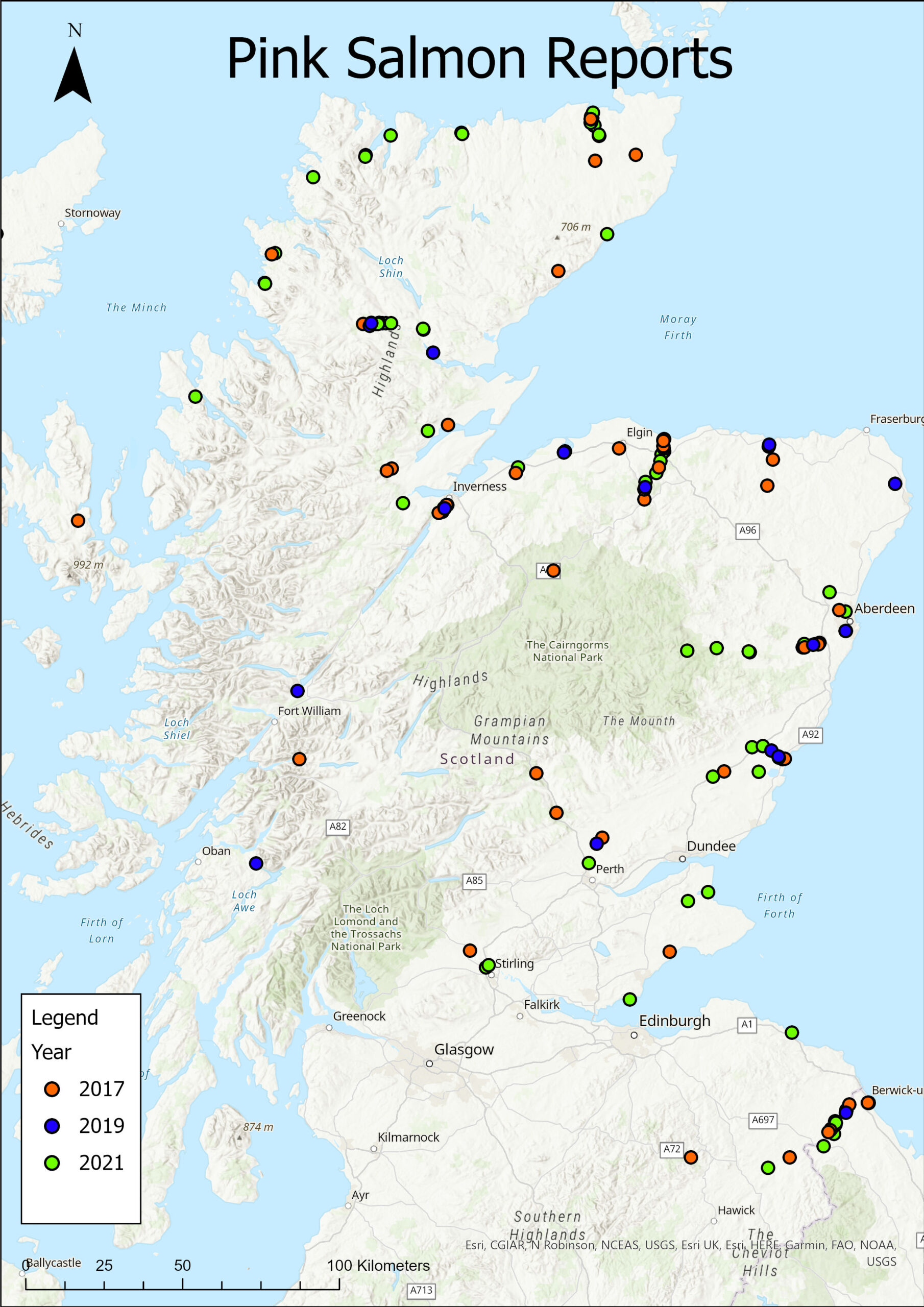 Map of Pink salmon report areas supplied by Fisheries Management Scotland (FMS)
Reporting pink salmon 
FMS has produced detailed guidance to help identify and report incidences of pink salmon and view the findings in real time. 
If you see a pink salmon, or accidentally catch one while fishing for other species, we are looking for your help to gather as much information as possible.  
Further information
The post Pink salmon: an invasive non-native species appeared first on Marine.
A leaping salmon, achieving the seemingly impossible to return to the upper parts of the very river in which it hatched after a year or more in the ocean, remains one of the most iconic images of Scotland's wildlife. But how are Scotland's wild Atlantic salmon faring? As our consultation on proposals for the conservation of Atlantic salmon during the 2024 fishing season launches, we look at some of the scientific data that underpins the management of this remarkable fish.
Every year scientists from the Marine Directorate of the Scottish Government assess the status of 173 Scottish salmon stocks using information collected from river fisheries and automatic fish counters combined with environmental information, such as water flow. The stock levels over the past five years are compared to an internationally agreed benchmark which aims to maintain stocks at sustainable levels. This allows the stocks to be categorized as in good, moderate or poor status with the reduction in salmon numbers driving an increase in the number of stocks in poor status (Figure 1).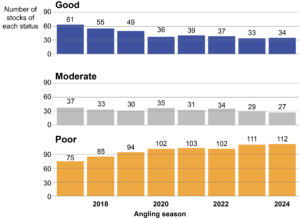 The larger rivers, which contain most of Scotland's wild salmon, tend to be in good conservation status. This means that approximately 80% of the total number of fish estimated to be in Scottish rivers are from areas in good conservation status.  However, declines in the number of salmon in areas in good conservation status highlights the need for action to safeguard this iconic species.
The proposed grades for the 2024 angling season highlight that the majority of stocks (112 out of 173) are thought to be in poor conservation status and these are spread throughout the country (Figure 2).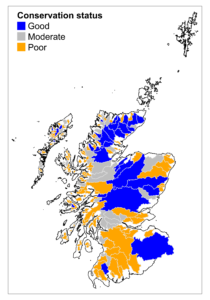 The number of wild Atlantic salmon returning to Scottish coastal waters has declined since estimates began in the 1970s (Figure 3).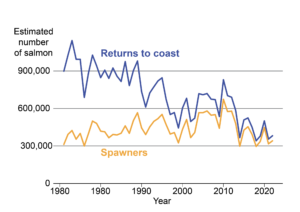 Fisheries managers have been able to offset these declines by greatly restricting the killing of wild salmon in fisheries, but since around 2010 there has also been a decline in the spawning stock.
The reasons behind the widespread fall in wild salmon numbers in Scotland and across the North Atlantic ocean are highly complex. The evidence suggests that changes in oceanic conditions driven by climate change are at least partly to blame, but it is likely that many different factors in rivers and at sea play a role.
To address the declines and build resilience in salmon populations to the effects of climate change we worked together with multiple partner organisations to develop the Scottish Wild Salmon Strategy and accompanying Implementation Plan.
Alongside reducing pressure from fisheries, actions under the plans include supporting planting riverside trees to shade rivers from rising temperatures and restoring natural river flows by removing obsolete weirs and dams. Steps are also proposed to minimise the impacts of salmon farming on wild populations as well as continuing to co-operate internationally to improve the survival of salmon at sea.
Have your say on proposals for the conservation of Atlantic salmon during the 2024 fishing season by taking part in our consultation which runs until 8 September 2023.
The post How Scotland's wild Atlantic salmon are faring appeared first on Marine.
Scotland has some of the most diverse marine ecosystems in the world. The Scottish Government is committed to protecting and enhancing these to ensure they are safeguarded for future generations to enjoy and to support marine industries which rely upon them. Marine Protected Areas are one tool that the Scottish Government uses to seek to ensure that some of the most vulnerable species and habitats are restored and resilient to future changes by removing the pressures that affect them.
The existing MPA network consists of a range of sites both inshore and offshore in Scottish Waters. We are currently developing the fisheries management measures required to manage Scotland's existing Marine Protected Areas (MPAs) network and to protect the 11 most vulnerable Priority Marine Features.
Ahead of the planned public consultation on proposed fisheries management measures in 2024, we've commissioned consultants to undertake a Socio-Economic Impact Assessment (SEIA) and Strategic Environmental Assessment (SEA) of the draft proposals. This will be undertaken in line with new guidance, developed with stakeholders in 2022, to improve the way local and social impacts are accounted for when we carry out SEIAs.
Following this new approach, we wanted to better understand how coastal and island communities value their marine environment and the benefits that it provides to local communities and businesses, so worked with contractors to arrange research events across Scotland. These events, held in July 2023, were aimed at gathering information on the possible social and economic impacts to coastal and island communities from the proposed fisheries management measures.
Events were held in Lerwick, Stornoway, Peterhead, Ullapool, Oban and Troon and included public drop in sessions and dedicated workshops. In total over 300 individuals came along to discuss their thoughts with the team and provide input on the possible social impacts of marine protection. The workshops were attended by representatives from community councils, commercial fisheries, aquaculture, local authorities, tourism providers, eNGOs and academic researchers.
At these events, Scottish Government shared information about the types of MPAs and Priority Marine Features management areas in the local area and the possible fisheries management measures.
Attendees spoke about what they value in their local area, their connections to the marine environment and how they felt management of fisheries for biodiversity in their area would impact their lives and communities, both positively or negatively.
A Social Impact Assessment will be produced based on the input from stakeholders and will inform and accompany the SEIA. These reports and full details of the proposed fisheries management measures will be subject to public consultation in 2024.
The maps of MPAs and fisheries management measures shared at the events are shown on the Marine Directorates Information site. For more general information on MPAs please see;
The post Assessing the social impacts of inshore Marine Protected Areas and proposed Priority Marine Feature Management Areas appeared first on Marine.